2 March 2017
Newsletter Articles
Principal's Report
We have had a positive start to the year with classes settled and routines in place. Students have been busy in PE preparing for today's Athletics Carnival.
Visual Art's with Taryna Sims will commence next week with students eager to express their creativity. We have also introduced Drama into our curriculum as an avenue of supporting social and emotional development. We are very excited about the opportunities that lay ahead in this exciting area and having such a highly trained and skilled drama teacher in Ms Andrea Harding. Our support programs, QuickSmart, Delta Dog, Story Dogs and Flexible program have either commenced or will commence next week.
Mem Fox
We are so very excited and fortunate to have been able to have Mem Fox, a renowned Australia children's author, visit our school next Friday (10th March). This is a great coup for our school and wider community. An invitation is extended to all our parents, carers and community members to come along and be highly entertained listening to Mem. Please refer to the invitation further in the newsletter. Note: Childcare is available, however, you will need to book this via the school.
Playground
Many of you may have seen the work being undertaken in the early childhood playground. The construction of a larger and new cubby sees the first of a number of improvements. A new bike track is due for completion today which will include a range of surface textures and colours. Also in the planning stage is a mud kitchen. These will provide greater play opportunities for our younger students.
On a sadder note it was extremely disappointing to arrive at work Monday morning to find that a number of youths had vandalised the new cubby. This occurred on Sunday evening around 8:00pm. They kicked at the door, forced open the window and took the door off the hinges. The police are currently handling the matter and Mr Templeton has repaired the cubby. We take great pride in our school and it is disappointing to think that there are people in our community that do not consider how their behaviour impacts on others and the additional costs in replacing or repairing vandalised property.
Welcome BBQ
It was fantastic to see so many families join staff at the welcome BBQ on Tuesday night. The students enjoyed the games and activates, with the jumping castle being a big hit. It was awesome to hear the great manners of our students as they asked for a sausage or hamburger; adhering to our school's Values and Relationships. The BBQ provided parents with the opportunity to meet their child's teacher and catch up with other staff and friends in a relaxed and informal way. A huge thanks is extended to Steven Coppleman and Woolworths for the donations of bread and meat for the BBQ.
Attendance
A reminder to all parents and carers that if your child is absent from school it is your responsibility to notify us. If your child is absent due to sickness for 5 days or more they are asked to provide a medical certificate. It is important for both the academic and social development of children that they attend school every day. Our school goal for 2017 attendance is 94% and our current attendance rate is 95%. Let's make every day count!
Attendance per class as at 27th February.
| | |
| --- | --- |
| Kinder/Prep A | 92% |
| Kinder/Prep B | 99% |
| Grade 1/2A | 95% |
| Grade 1/2B | 95% |
| Grade 3/4A | 92% |
| Grade 3/4B | 94% |
| Grade 4/5A | 97% |
| Grade 5/6A | 95% |
| Grade 5/6B | 95% |
Magella Dudley
Feature Class News
Grade 5/6A – A Great Start To Our Learning Journey
We are all settled into our new class and have been focussing on learning about reading comprehension strategies and narrative writing.
Mason and Tori are both working on writing scary stories.
Kaitlyn, Stacey, Jayde and Mayah are working on a self-monitoring reading comprehension activity. Self-monitoring is knowing when to stop reading when we don't understand a word, sentence or paragraph. We have learnt to re-read the text when we don't understand what we are reading.
Madison and Amber have been learning about activating prior knowledge. The inside boxes show what they knew before reading a book about sharks. The outside boxes show what they have learnt after reading. They have also both written definitions about activating prior knowledge.
Kylie Mudford
Grade 5/6A Teacher
Student Leader Profiles
Name: Amalie Benjamin
Leadership Position: School Leader
Family: Mum, Dad, Jackson, Starley, Koby and Maysi
Pets: 4 dogs, a cat and a guinea pig
Interests/Hobbies: I like sports and gymnastics
Favourite Subjects: P.E. and Art
A goal for me this year is: To improve at my running
I can help make West Ulverstone Primary a better place by: Making sure everyone is being safe and following all our School Values
Who inspires you: Family and friends
When I leave school I want to: Be a beautician
Name: Rori Coote
Leadership Position: School Leader
Family: Mum, Dad, Finlay, Jameson and Leo
Pets: Willa our cat, Chocolate Daisy and Pancakes, our rabbits
Interests/Hobbies: I like drawing, playing with Lego and playing on my iPad
Favourite Subjects: Maths, Art, P.E., History, Science and Reading
A goal for me this year is: To find a new assembly song for when classes are coming into/leaving assembly
I can help make West Ulverstone Primary a better place by: Reminding people not to run in the corridor and raising money to buy new equipment
Who inspires you: My cousin Katie Bright who is a really good artist. I'm also inspired by Lea Michele from Glee
When I leave school I want to: Go to College and become a party planner
Flexible Learning Program
Our Flexible Learning program will begin next week with our dedicated team of teacher assistants and Leanne our school Chaplain.
Students selected for the program will be involved in discussions about the program and what is expected of them. Information for parents of participating student will be sent home this week.
Canteen will run only at recess time this year and will begin next week selling a small range of items made by both our Cooking and Catering, Flexible Learning groups.
Rachel Steele
AST Teacher
Introducing Our New Buddy Seat
The idea of the buddy seat is about friendship, kindness and inclusion. So if students don't have anyone to play with or are having a day where they might be feeling a bit low they can head on over to the buddy seat. A cover has been made which is put out on one of the bench seats between the courtyard and top oval every day.
Our school leaders monitor the seat by having a chat with students who are there and they will help to get them involved in playing in the playground.
All students can help people on the buddy seat by giving others a smile or including them in what they are playing. Including others, being friendly and kind makes everyone feel good inside. These traits also link with our School values – Respect, Relationships and Responsibility.
A special thank you to Michelle Hayward for making the cover (Mum of Tyson Hayward who left WUPS 2016). Thank you to Taryna our Art Co-ordinator for organising the painted lettering.
Here are our school leaders Amalie Benjamin and Tanner Mott with our buddy seat and some younger students.
Kylie Mudford
School Leader Co-Ordinator
Asthma & Anaphylaxis Schools Program
Students with asthma – no matter how mild
If your child has asthma – even if it is quite mild – please let us know.
We will complete our training soon with the Asthma Foundation of Tasmania. They told us that there is no way of predicting if a student may suddenly have a major flare up, even if it has not happened before.
So please let us know so we can fulfil our duty of care and keep an eye on them.
Students with anaphylaxis
Please make sure that we have your child's most recent Anaphylaxis Action Plan.
The plan that we are referring to is the one that has the patient's photo attached and signed off by a doctor.
According to ASCIA, Australia's authority on anaphylaxis, the plans should be renewed by your doctor at least once a year.
Any questions on asthma or anaphylaxis
If you have any queries, talk to the Asthma Foundation of Tasmania, the organisers of the Schools Program, by visiting the link below or calling 1800 278 462.
http://www.asthmatas.org.au
Mrs Milne-Viney
PE Teacher
Maths with Murphy
Murphy knows that maths is everywhere! He knows that we all use maths many times every day, often without realising it. Each fortnight Murphy will share a new easy maths problem and a hard maths problem that parents and students can do and talk about together at home.
Don't forget to put your answer (make sure it has your name and class on it) in the box at the office to be in the running for a fortnightly canteen voucher.
Answers will be in the next newsletter.
When working on problems together, don't forget to ask each other questions such as: how do you know?, what are you thinking about? and can you draw something to help you work it out?
Have fun!
Last Week's Questions and Answers
Lottie has a bag of apples.
She gives half of them to Fred.
Fred eats two and then has four left.
How many apples did Lottie have at the start?
Answer: 12 apples
Today is my birthday. If my age in months is 99 greater than my age in years, how many years old am I now?
Answer: 9 years old
This week's Questions
Tony had 10 pancakes. Mary had 2 pancakes more than Tony, and Ashley had 3 more pancakes than Mary. How many pancakes did Ashley have?
Marcus had $450.00. He spent 2/5 of it on a DVD player. He then spent 1/3 of the remaining money on a jacket. How much money did Marcus have left?
Reading with Riley
Riley knows that reading is fun and the more you read, the better you get! We read in order to do things such as follow directions and instructions, find information and interact with others through social media. We use strategies to help us make meaning and understand (comprehend) what we read. We encourage all students to read every day.
We want all students to be enthusiastic readers who read a range of texts for both pleasure and information. Please talk to your child's teacher if you would like more information about reading.
Good readers pick good fit books and know that there are 3 ways to read a book.
National Assessment Program – Literacy and Numeracy (NAPLAN) 2017
NAPLAN (National Assessment Program – Literacy and Numeracy) commenced in Australian schools in 2008. Each year, all students in Years 3, 5, 7 and 9 participate in common national tests which assess:
Reading
Writing
Language Conventions (spelling, grammar and punctuation)
Numeracy.
The scheduled dates for the tests in 2017 are Tuesday 9 May, Wednesday 10 May and Thursday 11 May.
The benefits of participating in NAPLAN testing:
NAPLAN tests the skills that are essential for every child to progress through school and life such as reading, writing, spelling, grammar and numeracy.
NAPLAN results provide valuable information on how your child is progressing against national minimum standards of literacy and numeracy skills expected for each year level.
The NAPLAN tests provide you as parents with an individual report that shows your child's results and a comparison of your child's performance against all other Australian students in their year level.
Teachers use the NAPLAN results to determine your child's areas of strength and where future focus is required and how best to provide support or extension activities.
School teachers use the online NAPLAN Toolkit to analyse your child's results. The Toolkit provides detailed information right down to the individual question with links to teaching strategies.
Principals, senior staff and others use NAPLAN results to inform school planning and to allocate resources and support including informing decisions around targeted programs and initiatives for individuals and groups.
The best way you can assist your child is by helping them to feel comfortable about the nature and purpose of the tests, and assure them that the tests will give them an opportunity to show what they have learned in class.
For more information about the national tests, please visit the national NAPLAN website at:
http://www.nap.edu.au/naplan/naplan.html
Grade 3 Numeracy example question:
Grade 5 Numeracy example question:
Grade 3 Language Conventions example question:
Grade 5 Language Conventions example question:
Mem Fox Community Event
School Health Nurse
Hello, I'm Nurse Jenny. This year I have started as your School Health Nurse, and will be at the school every Thursday. Kindergarten parents have received a health assessment form – please complete these and hand them into the school office or to your child's kinder teacher. This paperwork is important as it gives consent for me to perform a hearing and vision assessment as well as a general health screen on your child. The screening will commence on Thursday 23rd February, once I have had the chance to spend time with all the kinder groups.
I am also available to perform hearing, vision, and health related assessments / referrals for other students, however; requests should be made to your child's class teacher first.
My role will be shaped by the needs and priorities of West Ulverstone Primary School and I welcome your suggestions, questions and feedback. In my role I hope to become part of your wonderful school community, working alongside the staff here and getting to know the students and their families. If you would like to contact me, please leave a message for me with the school office staff and I will make contact with you at my earliest opportunity.
Jenny Garnsey
School Health Nurse
Sports News
For all sport enquiries please contact Mrs Milne-Viney, HPE Teacher.
Athletics Carnival and NW Athletics Carnivals
Results of our Athletics Carnival will be in our next Newsletter – watch this space!
Students from Gr 3 - 6 that are selected to represent West Ulverstone Primary at the annual NWPSSA Athletics Carnival will receive letters early next week. The NWPSSA Athletic Carnival will be held on Thursday 16 March at the Penguin Athletic Track. The back-up day is Tuesday 21st March. The Twilight Carnival will be held on Thursday 23rd March, starting at 4.00pm. At the Twilight Carnival all Sprint race finals are held, plus the 1500m events.
Grade 5/6 Cricket Team
Training started this week on Wednesday from 3.00 -4.00 pm on our bottom oval. Mr Phillip Templeton has again put up his hand to coach our team. Parents please be prompt in picking your child up after training. Our first game is due to occur this Friday night 4th March. Rosters have been sent home.
Soccer News
Registration forms and permission slips were sent home earlier this week for students from Gr 3 - 6 to participate in our school soccer teams. We request that all registration forms, code of conduct and money are returned to the school office. We will then pass them onto the association. Forms are due back by Monday 6th March.
Ulverstone Soccer Club News
Welcome to the 2017 soccer season. We are looking at starting on the 8th of April with a mini carnival/round robin before the Easter holidays. The full soccer roster, including under 8's, will start on Saturday 29th April.
Development training is on Monday and Thursday nights at 5.00pm and once the season starts it will go to Tuesday and Thursday nights around the same time. Dates for Junior Carnivals 2017:
Hobart - April 29-30
Devonport - June 10-12
Launceston - Sept 23-24
We will be entering teams in Under 10/11/12 boys and girls for each of these tournaments so if you are interested in playing in these tournaments please come along to our Development training. We are still looking for a couple of coaches for the Development teams especially the girls teams. If you are interested please contact me.
Ulverstone Soccer Club is holding a registration day on Sunday 26th Feb at 10.00 am – 2.00 pm. Registration is $80.00 for school soccer and our under 8's program. Please contact Lisa for further information.
Open Air Cinema Event
The Ulverstone Soccer Club are excited to be bringing an open air cinema to Ulverstone on the 8th April. The movie we are screening is the popular 2015 family animation Minions.
Tickets need to be booked through eventbrite and paid at the club or at the gate on the night.
Adult $10.00 (15yrs +)
Children $5.00 (3-14yrs)
Children under 3years old are free
Family 2A, 2C $25.00 - additional children $3.00
Gates open at 5:30pm
Canteen with hot food and snacks
Coffee/hot drinks van
Popcorn stand
Ice-cream and fairy floss
The movie will commence at 6:30pm. Bring along chairs, bean bags and blankets.
In the case of poor weather conditions the event will move to an alternative indoor location. We hope you join us for a great night out with your friends and family!
Please email events@ulverstonesc.com if you have any questions
Lisa Gillard
Registrar/Junior Soccer
Ulverstone Soccer Club
email; UlvieSoccerClub12@gmail.com
ph 0437 868 466
Story Dogs Needed
Our school would love to expand this unique reading support program helping our students to become life-long readers.
The teachers love this program, the students can't wait to read and the program works!
Do you have a dog that is well behaved, gentle and is happy around children?
Can you spare a couple of hours a week?
Call or email Story Dogs so you can start helping children to become better readers.
Contact:
Helen Justice
Assistant Coordinator
Tasmania North-West
T: 0409 112 011 / 6428 8871
E: helen@storydogs.org.au
now helping over 880 children per week to become lifelong readers
Registration to Work with Vulnerable People (WWVP)
Over the past 12 months, all sectors of the community that involve working with young people, have been going through a transition period. This has involved moving from the previous requirement to have a Good Character Check (sometimes known as a police check) to the new requirement to hold a registration to work with vulnerable people (WWVP).
These moves are not an effort to create barriers to people volunteering in Tasmanian schools, it is quite the opposite. The requirement to have a WWVP registration provides a process to ensure that the people working with young Tasmanians are safe, of good character and have no prior convictions that are of concern. We strongly encourage all parents to register as a volunteer either on the Service Tasmania website below or in person at a Service Tasmania office. Below are some examples of where it will be necessary to hold a WWVP.
http://www.justice.tas.gov.au/working_with_children
Parents/grandparents/carers coming into classrooms to help with reading etc. are

required

to hold WWVP Cards
Parents/grandparents/carers involved with school excursions are

required

to hold WWVP Cards
Examples of people

NOT

requiring WWVP cards are as follows:
a. Parents/grandparents/carers coming into school in the morning, chatting amongst other parents and settling their child into school
b. Parents attending carnivals
c. People dropping off or picking up children
d. Relatives attending school events such as assembly, sports carnivals, concerts, etc. where they are not directly participating
e. Children under the age of 16
SZapp
Learn how to install the app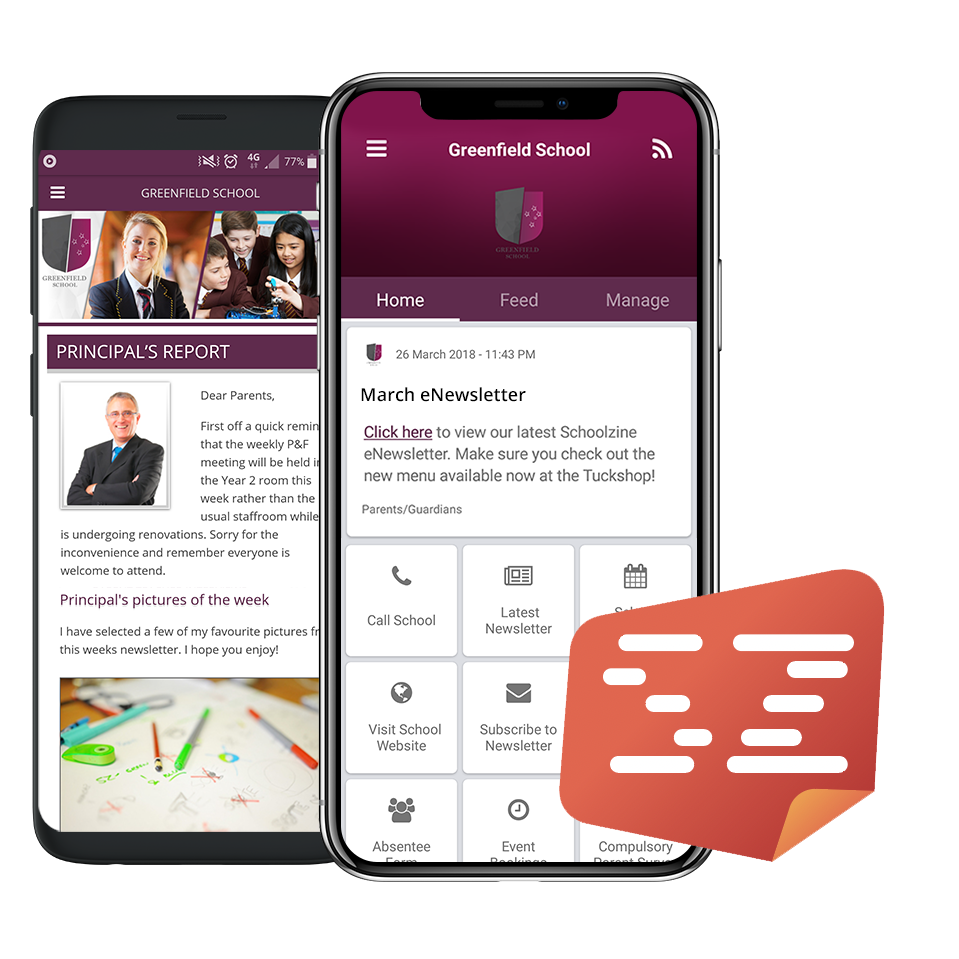 Apple Devices:
On your device, open the App Store.
Search the App Store for SZapp.
Download and install SZapp.
Android Devices:
On your device, open the Play Store.
Search the Play Store for SZapp.
Download and install SZapp.
Find your School
Select your school's region.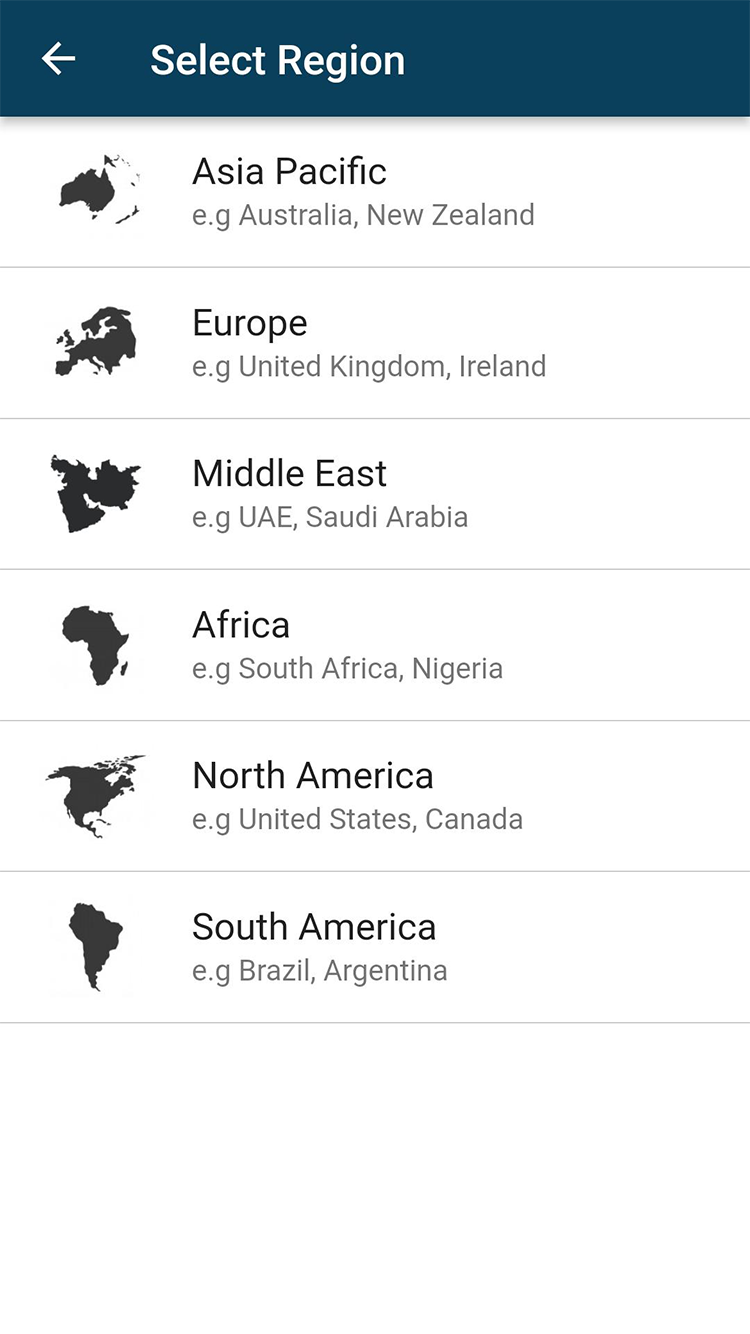 Search for and select your school.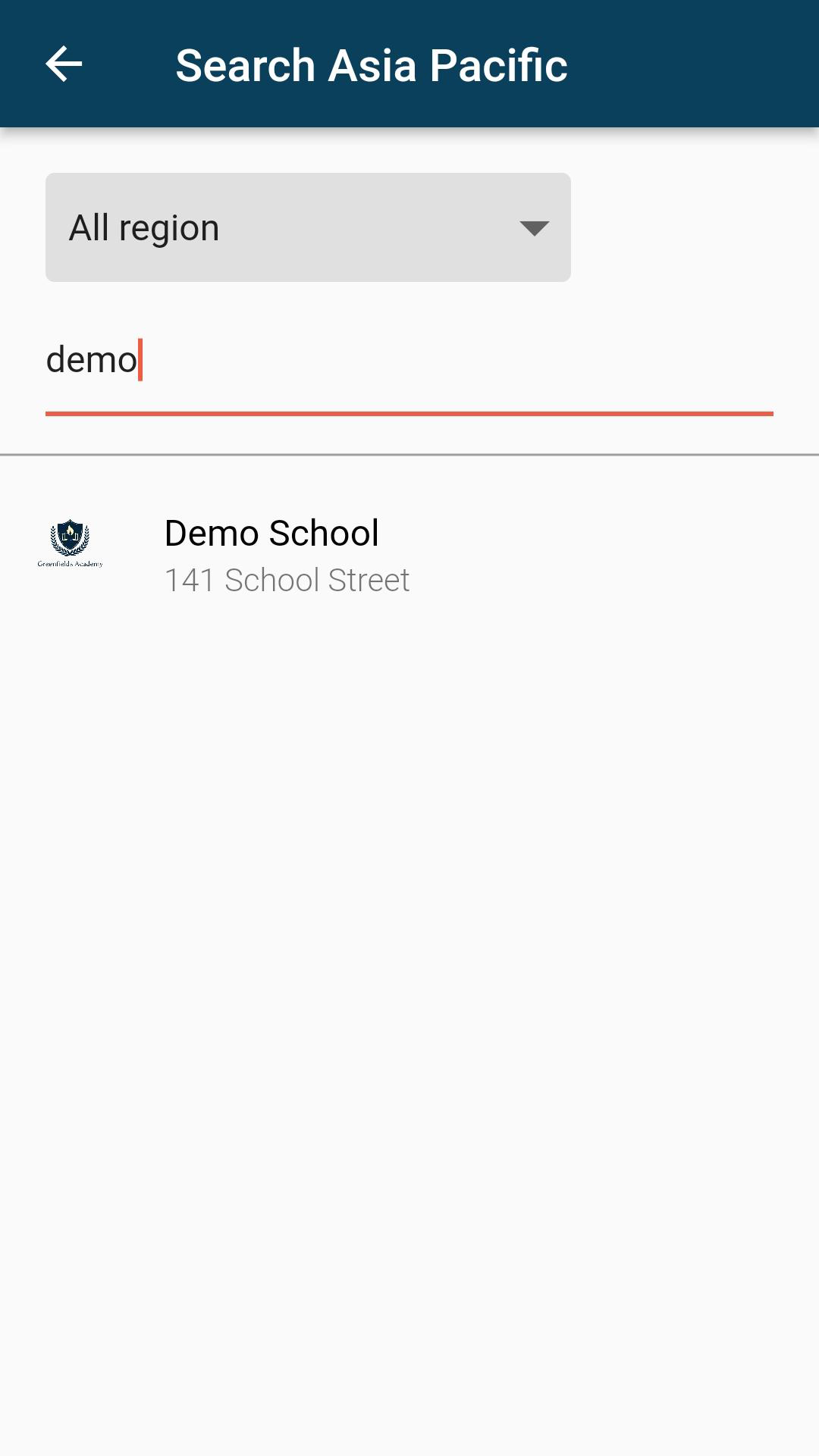 Register a User
Before you can add your school, you will need to register.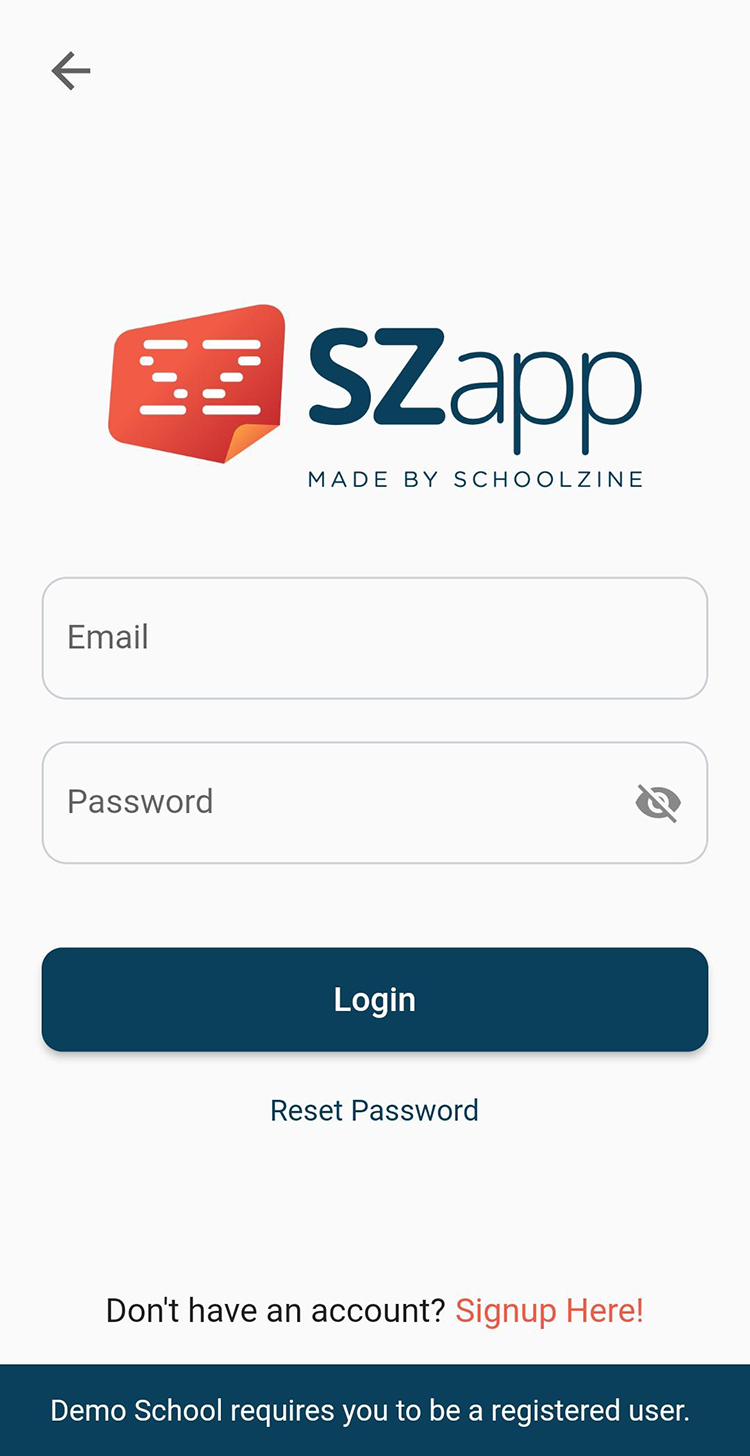 Enter your email and name.
Create your password.
Confirming your Email Address
Once registered you will be sent an email to confirm your email address. Open your mail program and click/tap the URL to confirm.
Upon completion, you will then be shown a confirmation screen.
Allowing Permissions
Upon installation of the update, you will be asked to allow access to storage on your device. This is required to ensure that SZapp can access the necessary files to store crucial data on your device.
Please click the affirmative options on each pop-up.
Note: The pop-up message you see may differ depending on your device.
Managing Notifications
Choose which group/s you would like to receive notifications from.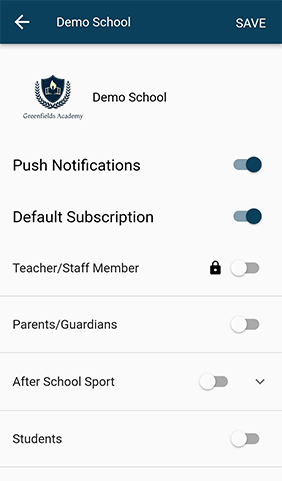 Groups with arrows indicate that there are sub-groups which you can join.
Home
The Home tab displays the most recent news item and links to important school information and tools.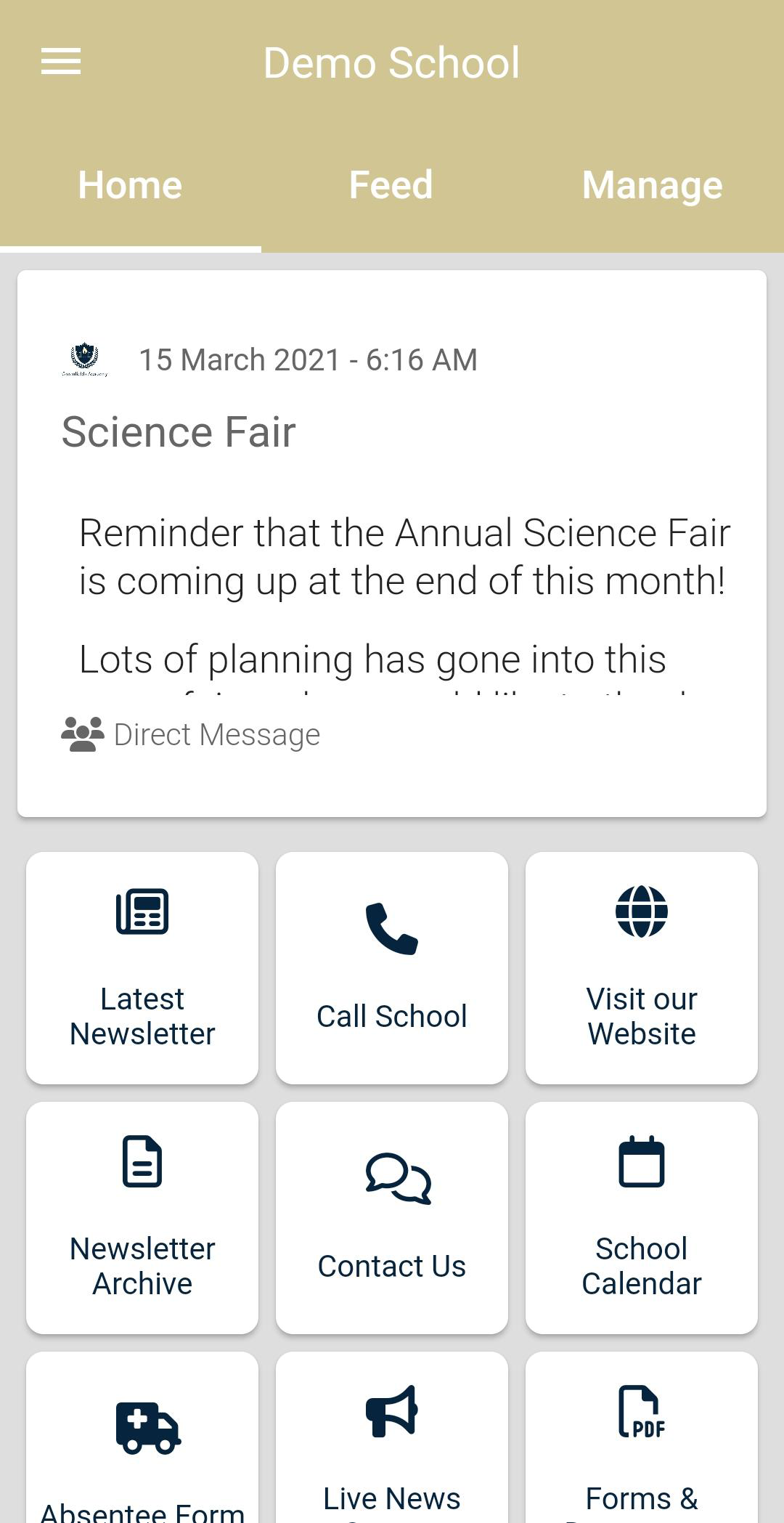 Feed
The Feed tab shows a summary view of all news items which you have subscribed to.
Manage
The Manage tab allows you to customise what information shows in your news feed and what push notifications you will receive.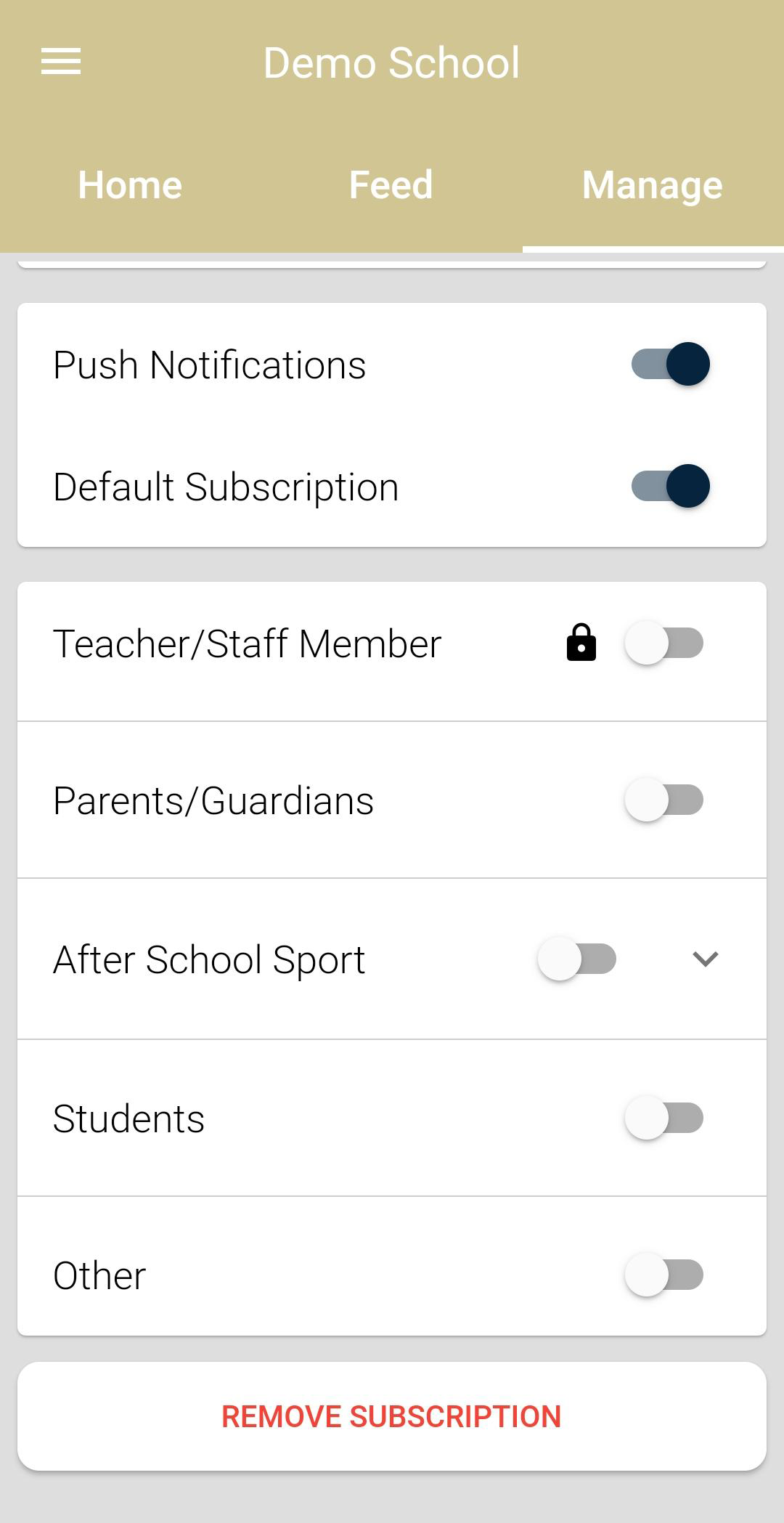 For more information please view our FAQs
Camp Clayton Open Day
Salvation Army Easter Makers Market